Interested in learning about membership? Please contact Jeff Lurie, Executive Director
A Greeting From Our President
Shalom and welcome to Temple Emanuel of Newton, Massachusetts (TE). Temple Emanuel is a thriving and dynamic community in the Conservative tradition, and it is my pleasure to invite you to explore all that we have to offer.
Symbolically, there are Seven Gates into Temple Emanuel. The Seven Gates are a reflection of the reality that there are many ways of living Jewishly and to explore and strengthen our shared Jewish connections. At Temple Emanuel the Seven Gates are: Community, Shabbat and Prayer, Learning, Life Cycle Rituals, Music, Israel, and Social Action. We encourage you to make Temple Emanuel your Jewish home in ways that are meaningful to you. Please explore our website to learn more about the Seven Gates and to see the calendar of services and programming available.
We have an outstanding and dedicated Clergy, Professional Staff and Lay Leadership that are all working in concert to make Temple Emanuel a warm and welcoming place to all who join us, either in person or via live stream. In addition to Shabbat and holiday worship, we have a morning and evening minyan every day of the year.
My family and I have been active members of the congregation for 20 years. We have each found our way – through two or three Gates – to the feeling that Temple Emanuel is our Jewish home. We want to hear from you about your Jewish journey and to answer questions.
We look forward to sharing, praying, and learning with you.
Kol tuv,
Tim Mahoney, President
Join us!
We are thrilled that you are considering becoming a part of our Temple Emanuel community.
Temple Emanuel is a Conservative, fully egalitarian congregation affiliated with the United Synagogue of Conservative Judaism and the Synagogue Council of Massachusetts. With a membership of over 1,400 families, it represents a diversity of Jews from Newton and surrounding communities. With a broad spectrum of religious, cultural, social & educational activities, there are many reasons that Temple Emanuel is a pillar of the community for Jews in the area.
Click HERE to view our membership application.
Learn about Temple Emanuel's New Initiatives to help ensure a vibrant Jewish Future
Next Generation Initiative
Temple Emanuel's Next Generation membership program allows young adults to join Temple Emanuel without paying membership dues (although you are welcome to contribute in whatever way feels best) until young adults turn 37. Temple Emanuel is community, spirituality, inspiration, friendships, connecting with your Judaism, enjoying a multi-generational community, a place to learn and grow, sharing Shabbat and the High Holidays.
Gift of Early Education
Temple Emanuel believes that there is nothing more important than a Jewish Education. Allow us to offer your children this gift with a scholarship gift of up to $2,000 for Temple Emanuel members who enroll in our preschool.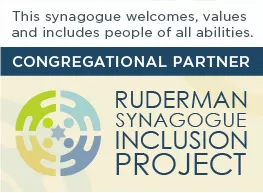 Temple Emanuel is honored to be a Synagogue Partner of the Ruderman Synagogue Inclusion Project (RSIP), working to create a community where people of all abilities are welcomed, valued equally and able to participate fully. Being a RSIP Synagogue Partner will connect Temple Emanuel with the resources, expertise, and training in order to be a more welcoming synagogue.
"We hope our partnership with the Ruderman Synagogue Inclusion Program will accomplish two worthy goals. One, it will allow us to do right by all the persons who enter our community. Two, whatever we learn, we are happy to share with other synagogues and communal organizations in Greater Boston. Together, may all of us in Jewish communal life seek, find and respond to the Tzelem Elohim, the image of God, that is in every one of us."
– Rabbi Wes Gardenswartz