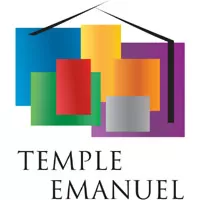 Welcome to the Temple Emanuel Member Information Page! Below you will find instructions on how to manage your account, apply payments, update your contact information, and more!
Payments
Your payment of dues represents your annual commitment to the vision, goals, and programs of Temple Emanuel. There are four payment options you have chose from to pay your dues for this year. To make a payment on your account, please click HERE. Please note that when paying online, there is an additional fee of 3%, which is credited to your account as a General Fund donation
OPTION ONE: 100% payment of dues and fees by July 31
OPTION TWO: Four (4) quarterly payments – due July 31, September 15, December 15 and March 15
OPTION THREE: 25% payment by July 31 and full balance by December 31
OPTION FOUR: Ten (10) equal payments – beginning July 31 and ending April 15
OPTION FIVE: Securities – Donation of appreciated securities. Contact Jill Matusow if interested
OPTION SIX: Qualified Charitable Distribution (QCD) – Payments from your IRA. For more information, please click here
No one will be denied membership because of financial hardship. If you would like to apply for an abatement (reduction of your dues), please do one of the following:
Complete our Abatement Assistance Form online HERE
Print & fill out the Abatement Assistance Form and send to the Temple office c/o Jeff Lurie, Executive Director or Tim Mahoney, President
Contact Jeff Lurie at jlurie@templeemanuel.com or (617) 558-8110
All requests will be kept in strict confidence.
We are currently only sending electronic statements unless you do not have an email address, or prefer paper statements. If you would like to change your statement preference to paper only, please contact our Database Specialist Shaun Sander.
To update your account's contact information, please complete our Contact Information Update Form.
Update Here
View our rate sheet for information on membership dues, tuition fees, and more.
View Here
Temple Emanuel Online Directory & Member Area
Our online member portal grants access to our actively updated online directory, as well as the Member Area where you can both view & edit your family's Yahrzeits, address, household members, and more! We have provided instructions below; please feel free to contact our Database Specialist Shaun Sander for assistance!
Access the Member Area
Click on the "Member Area" link at the top of our website (next to "Join Us!") or access it directly at https://templeemanuelnewton.shulcloud.com/member/. Login will be required to access the Member Directory and the My Account features. If this is your first time logging in, click "Forgot your password?" when prompted to log in and an email will be sent to you with instructions.
Managing Your Account
After logging in to the Member Area, there will be a grid of boxes with categories to select, such as My Profile, View My Addresses, Change My Password, etc. Click whichever section you would like to view/ edit, and then an "Edit" button will appear if you would like to update any of your records.
Online Directory
After logging in to the Member Area, click "Directory" towards the top of the page, directly beneath the Temple Emanuel Logo. Click in the search box and enter the name of the person you are looking for. To initiate your search, either click "Update View" or press "Enter" or "Return" on your keyboard.
To create or change your password:
Go to the Member Area home page and click the "My Account" icon. Scroll down and click the box on the bottom right you that says "Change my password". If you have not yet signed in you will be prompted to do so. Once on the "change my password" screen, enter the new password in the text boxes and click the orange button.
Mobile Access
On your mobile device, the "Member Area" can be setup to provide an "App-like" experience. Just create a shortcut icon on your device's homepage.
Using the browser on your mobile device, navigate to the Members Area by going to www.templeemanuel.com/MemberArea or by tapping the "Member Area" link on the synagogue website.
For iPhone users:
Tap on the "Share" icon at the bottom of your browser (Square with an arrow pointing upward) and select "Add to Home Screen".
For Android users:
Tap on the "Settings" icon on the top right of your browser (Three vertical dots) and select "Add to Home screen".